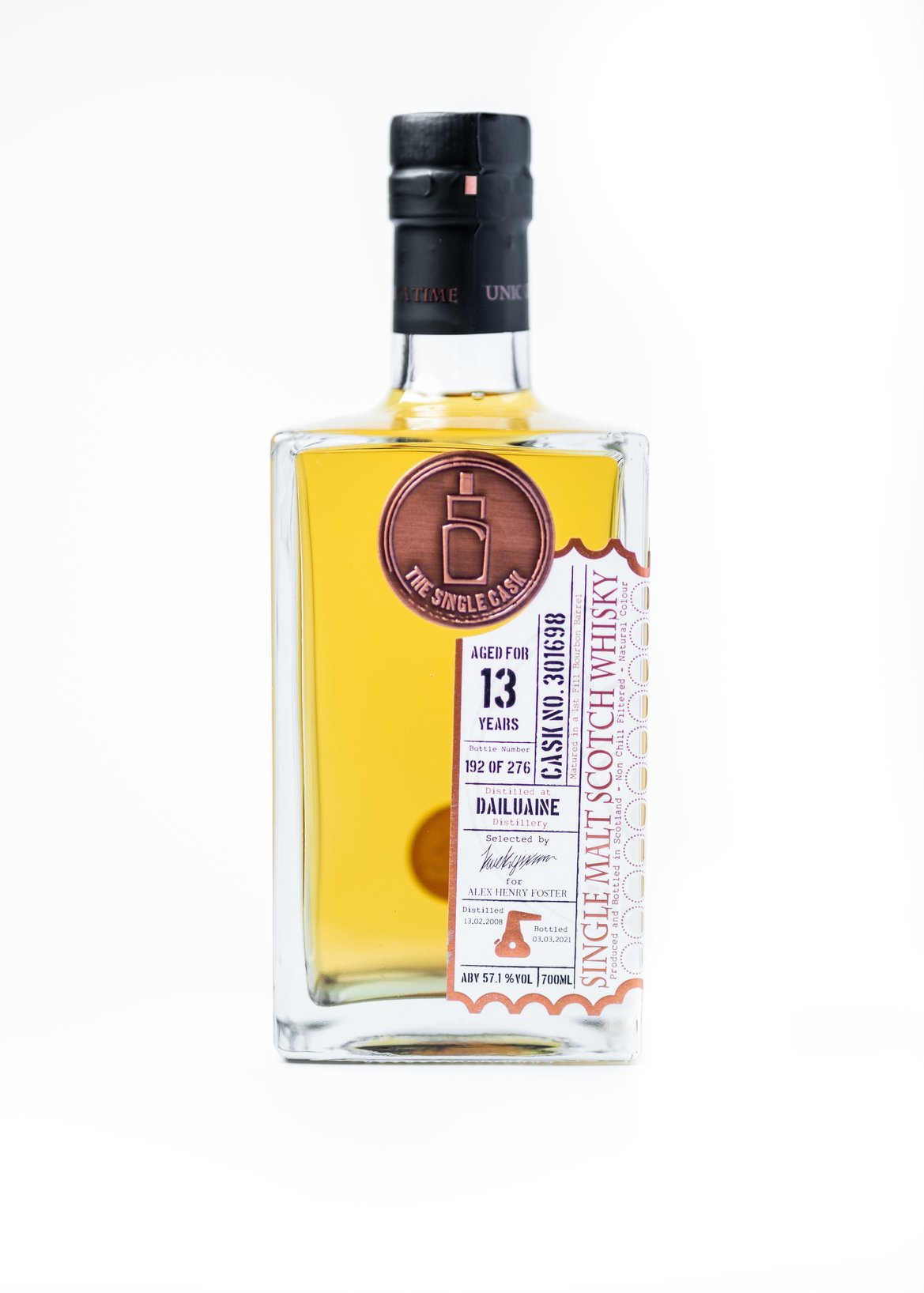 KEY FACTS ABOUT THIS WHISKY
Distillery: Dailuaine
Region: Speyside, Scotland
Type: Single malt scotch
Age: 13 years old
Distilled: 2008
ABV: cask strength of 57.1%
Cask ref: 301698
Cask: Bourbon Barrel
Bottle outturn: 276
Bottle size: 700ml 
WHISKY TASTING NOTES
 The musical tasting notes for this cask:

Nose: A heady riff of Frosties cereal followed by spicy licks of cinnamon and mellow white wine kick things off on the nose of this exceptional dram.
Palate: A harmonious fusion of malty, creamy and nutty hints followed by a vibrant stone fruits.
Finish: Just like a great song, this dram finishes on a crescendo which is accompanied by hints of salted macadamia nuts.
TSC x AHF Collaboration
 Whisky and music have been enjoyed together for many years by people all around the world, including us here at TSC, so this was a very exciting collaboration.
 To close this year The Single Cask has the pleasure to bring you a very special edition of our whisky. A whisky selected with and for the Canadian singer, Alex Henry Foster band. Alex Henry Foster, the band and the team are all big lovers of both American whiskey and Scotch. So when they approached us for a collaboration on this very special edition, we just could not pass up the opportunity. After long talks and tasting various samples of a wide array of TSC casks at different maturation points, various distilleries and finishes, we had found the cask that met the expectations and preferences of AHF. We dispatched the sample and waited for the feedback  with a sense of excitement as we felt that it represented the essence of whom AHF are as well as their personal flavour profiles. When we got the call that it was perfect, we were over the moon and proud to have this very special edition whisky carry not only our branding, but also the AHF humming bird. Music in our glass and harmony on the palate, from spoken words to a liquid song of love, this is a project of passion that we are proud to share with you.
Want to dive deeper into the story behind a particular product? Our passion for detail extends beyond what's on the surface. Feel free to reach out with your queries, and let's unravel the captivating intricacies of the product together.
For us, one of the best aspects of a good single malt whisky is its ability to bring people together. So when we created our bottles we wanted to design something that felt like a decanter - meant to be passed around a group of friends, new and old, as they enjoy sharing a dram together.

Our bottles have a good weight to them, making them feel substantial and giving them the presence a good whisky deserves.  We've offset the label, so that the whisky is centre stage; it shows the natural colour of the liquid clearly and proudly.

The label clearly and transparently shows you all the key information, including: the nature of the liquid (for example, single malt scotch) where it was distilled; how old it is; and how strong it is.  All our liquids are natural colour and non chill filtered.

Our bottles come in two sizes: 700ml, which is our standard for our main releases; and for some of our expressions, 100ml minis.
Choose options