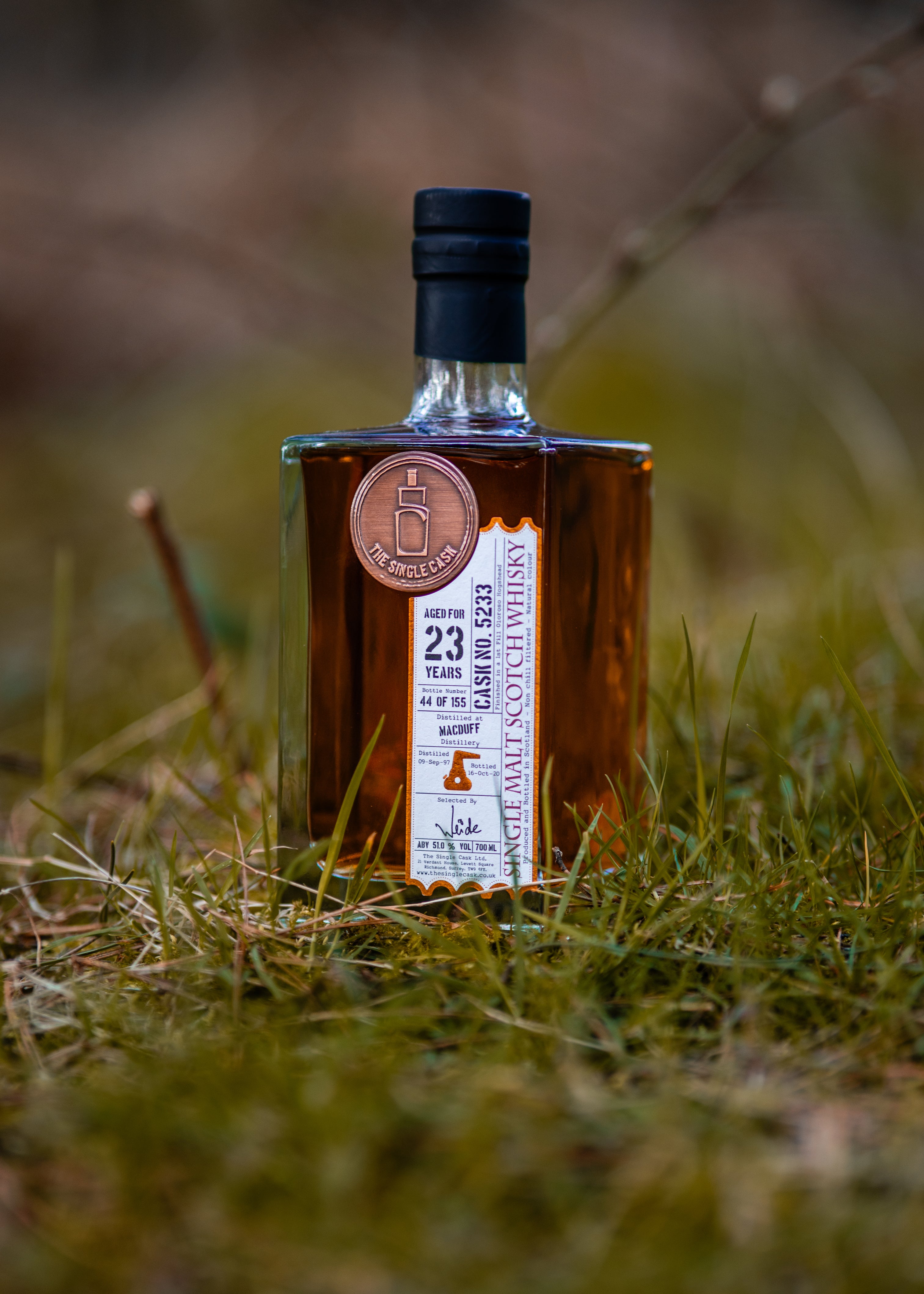 KEY FACTS ABOUT THIS WHISKY
Distillery: Macduff
Region: Highland, Scotland
Age: 23 years old
Year distilled: 1997
ABV: cask strength of 51.0%
Cask ref: 5233
Cask type: Oloroso Hogshead
Bottle outturn: 155
Bottle size: 700ml 
WHISKY TASTING NOTES
Nose: Dolce leche, toffee, peach liqueur, angelica root, coffee bean, sultana.
Palate: Immediately identifies itself with dried fruits and light rancio, more raisins and prunes, reminiscent of older-styled sherry finished whiskies. Rich and gummy honey, white pepper, nutmeg, cloves, gummy, mandarin peels.
Finish: Lasting, drying, savoury dried fruits and peaches.
About
One of the more obscure distilleries in Scotland, Macduff has a series of single malt offerings marketed under The Deveron name, although the vast majority of its production goes into blends such as Dewar's and William Lawson. This expression was initially matured in a refill bourbon hogshead before being transferred into an Oloroso hogshead for a secondary period of maturation before being bottled at 23 years of age by The Single Cask.
Want to dive deeper into the story behind a particular product? Our passion for detail extends beyond what's on the surface. Feel free to reach out with your queries, and let's unravel the captivating intricacies of the product together.
For us, one of the best aspects of a good single malt whisky is its ability to bring people together. So when we created our bottles we wanted to design something that felt like a decanter - meant to be passed around a group of friends, new and old, as they enjoy sharing a dram together.

Our bottles have a good weight to them, making them feel substantial and giving them the presence a good whisky deserves.  We've offset the label, so that the whisky is centre stage; it shows the natural colour of the liquid clearly and proudly.

The label clearly and transparently shows you all the key information, including: the nature of the liquid (for example, single malt scotch) where it was distilled; how old it is; and how strong it is.  All our liquids are natural colour and non chill filtered.

Our bottles come in two sizes: 700ml, which is our standard for our main releases; and for some of our expressions, 100ml minis.
Choose options