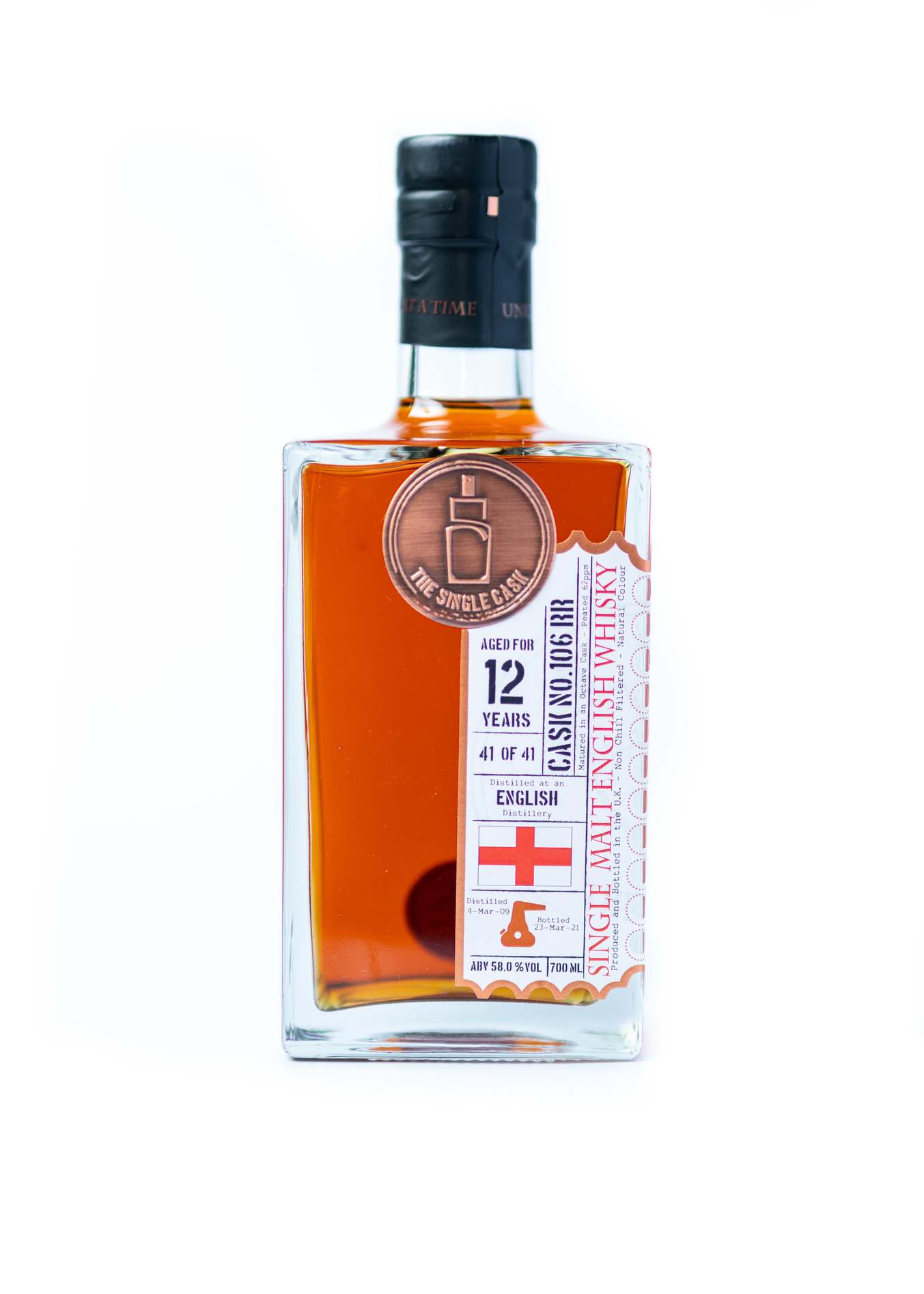 KEY FACTS ABOUT THIS WHISKY
Distillery: English Whisky Peated
Region: England
Type: Single malt scotch
Age: 12 years old
Distilled: 2009
ABV: cask strength of 58%
Cask ref: 106RR
Cask: Octave - Peated 62ppm
Bottle outturn: 41
Bottle size: 700ml 
WHISKY TASTING NOTES
Nose: Gentle, rolling waves of peat smoke. White grape juice, cranberries, crabapples, ripe pears.
Palate
: Anglesey sea salt, beach bonfire smoke, muscat grapes, a hint of fresh 
English 
strawberry.
ABOUT THE BOTTLE
The oldest ever English whisky bottled by The Single Cask! A true unique finding matured to excellence. Read
this article
written by Sorren Krebs passionate whisky blogger of 
OCDWHISKY.COM
 and ambassador of The English Whisky Co. to know more about this stellar release.
Finish: A hit of pungent Islay-esque peat, barley before harvest, fresh raspberries, mandarin oranges. Medium/short finish.
Teo Spiropoulos' Review
I bet you haven't tried this one! For me, it is always fun to pour some new not so well-known whisky in my glass and guess all the details: Region, type of barrel, age and why not sometimes the distillery !
Here is a perfect example of such a whisky. The oldest ever English Whisky bottle!
Pour a nice dram to your glass. Then close your eyes and smell it. It grabs my nose and takes it to the western islands of Scotland, smelling the salty sea and some burning peat from a close distillery. I could swear I'm on Islay or maybe to be more adventurous on Isle of Mull where Tobermory is currently making their famous peated Ledaig. I can smell the burning peat and some fruits on the nose, so I run quick for a sip that gives me confidence in what I just thought with all that smoke and strawberries in it. Yes! —I am definitely in Islay! And then I open my eyes, read the label and realize...I am not in Islay, not even in Scotland ! But in England at Saint George distillery, trying a 12 year old peated octave English whisky! Well, that was a trap my friends but lovely finish and exquisite dram! This one undoubtedly goes to my collection.
Want to dive deeper into the story behind a particular product? Our passion for detail extends beyond what's on the surface. Feel free to reach out with your queries, and let's unravel the captivating intricacies of the product together.
For us, one of the best aspects of a good single malt whisky is its ability to bring people together. So when we created our bottles we wanted to design something that felt like a decanter - meant to be passed around a group of friends, new and old, as they enjoy sharing a dram together.

Our bottles have a good weight to them, making them feel substantial and giving them the presence a good whisky deserves.  We've offset the label, so that the whisky is centre stage; it shows the natural colour of the liquid clearly and proudly.

The label clearly and transparently shows you all the key information, including: the nature of the liquid (for example, single malt scotch) where it was distilled; how old it is; and how strong it is.  All our liquids are natural colour and non chill filtered.

Our bottles come in two sizes: 700ml, which is our standard for our main releases; and for some of our expressions, 100ml minis.
Choose options